5 Creative Content Ideas For Your Email Marketing Newsletters
Stuck on what to write in your newsletters?
Firstly, you're not alone, I don't know one person that doesn't get stuck on content topics at some point in their life. When this happens to me, I tend to look back over my social posts to see what content topics worked particularly well to understand what my audience would like to know more about.
The thing to bear in mind is that you've probably already got some wonderful content out there that you could simply use and repurpose for your emails. Take live streams as an example, you can download your live videos, upload it to YouTube and pop it in an email. Not only will this drive more views onto your video content, but it will save you a lot of time when creating new content.
Getting started
Starting a newsletter can feel overwhelming for some, and you may find yourself questioning "what do I email every month?", "why would my audience want to hear from me?", "do I have enough content to share?". Wherever you're at in your email marketing journey, whether you're a complete newbie or you're here to just grab some more tips to use for content – I welcome you to this space to use my 5 content topics that feel relevant for you.
But before we jump into today's blog, I thought I'd share some Wellbeing 'dates to note' for your content diary, should you feel inspired to write an email around these:
Upcoming wellbeing dates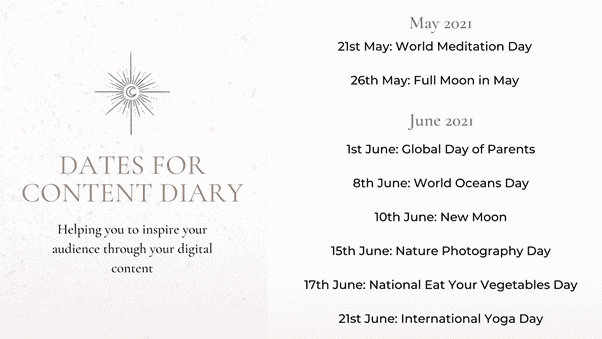 Need to look at dates further ahead, no problem, sign up for Wellbeing Umbrella's Monthly Upcoming Wellness National Dates HERE!
Email Content Topic – what's in it for you?
Planning your content themes ahead of time will help you to feel connected with the type of content your audience wants to see the most.
You'll also want to be mindful around the purpose for each email; aka your call to action, whether that's to encourage readers to click through to your website, to highlight your expertise through video content or to raise more awareness around your wonderful products or service.
At this point, I'd like to invite you to think about what's in it for YOU and what's in it for your audience. What are you hoping to get out of your emails? For example, I have decided to write a blog and an email around email content topics – this allows me to share my expertise and promote my email marketing course at the end. In exchange, my audience get to use this time and space to feel inspired for ideas and to take away content topics to implement without having to pay my services for it.
Once you've established what your goal is behind your email marketing, take a look at my 5 content topics below and simply choose what feels right for you, your business and audience.
Done-for-you Email Topics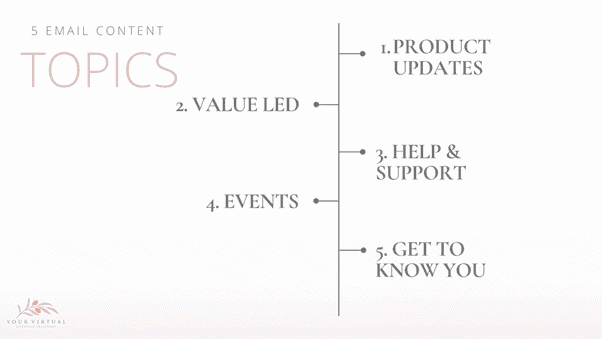 1. Product updates and how-tos
A 'how to' video tutorial
Exclusive tip of the week/fortnight/month
Product discounts
Client love & case studies
Best practise video tutorial or tip
2. Value driven
Infographics
A round up of your favourite blogs
Video content such as; live stream or a YouTube video
A guest blog section
Inspirational quotes and affirmations
3. Help and Support Corner
Frequently asked questions with your answers
Free resources
A 'How to' video to answer a burning question
Join the discussion type email post
Your favourite books or articles for further support
4. Event-driven
Your upcoming events, classes or webinars
Mini audio trailers of a past event or masterclass
Guest speaker slots
Journal prompts to use (if appropriate) on the back of a recent event/class you hosted
A 'how to' prepare ahead of class, webinar or event video
5. Get to Know You
Share your story
Celebrate a special milestone
Team spotlight
Share the story behind your brand
Welcome email
I hope this has been helpful. I'd love to hear your comments in the box below 🙂
If you'd like more email marketing support, check-out my free 30 minute masterclass here to give you more content topic tips, journal prompts + lead capture form ideas.
Have a wonderful day
Lisa